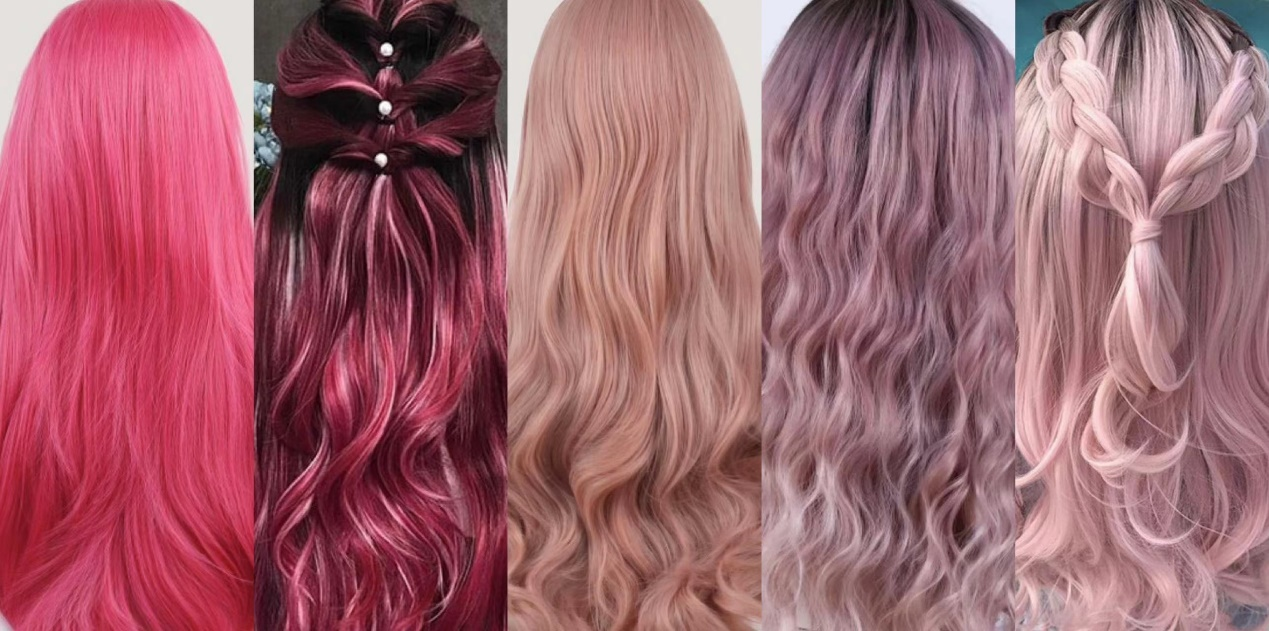 Wearing a wig can be a transformative experience, and the color of the wig can impact the wearer's mood and behavior.
Hot pink wigs have been making a statement in the fashion world for a while now. From runway shows to music festivals, pink wigs are seen as a bold and playful accessory that can add a pop of color to any outfit. However, the decision to wear a pink wig is not merely a fashion choice. It has deeper psychological roots that can reveal a lot about a person's personality and emotions. Let's dive into the psychology of wearing a pink wig and what it says about you.
The Color Pink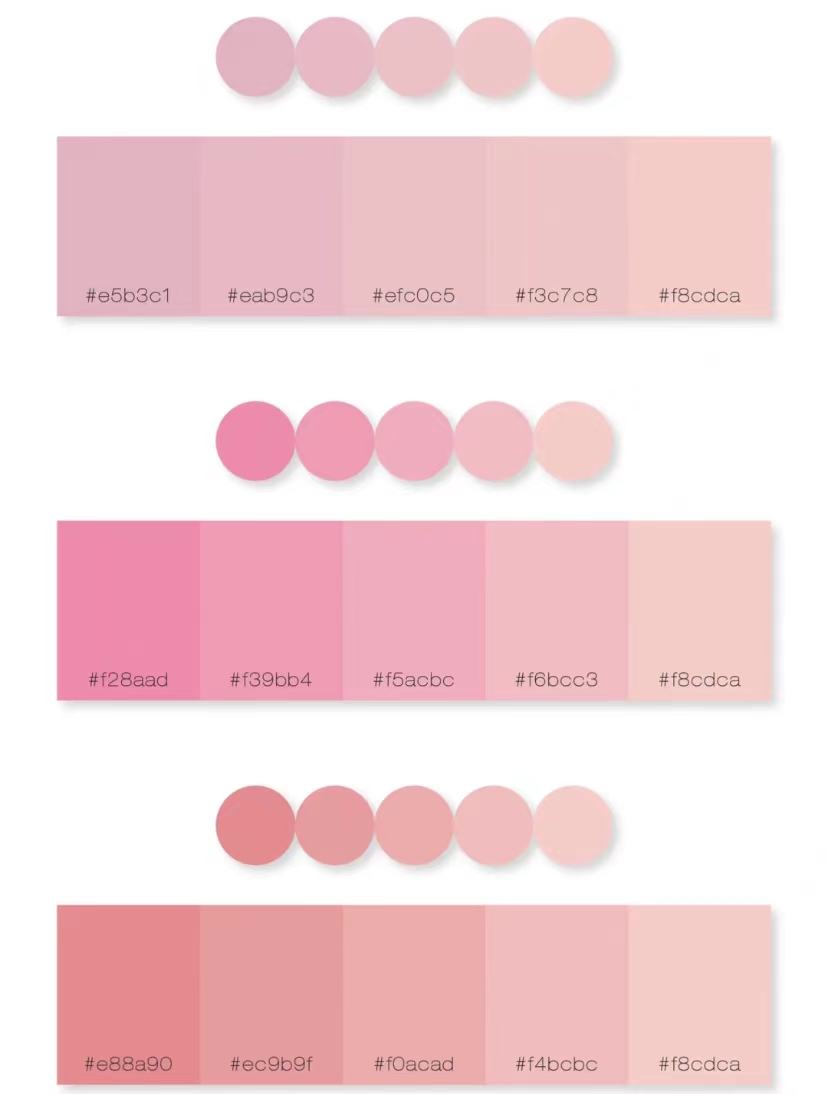 To truly grasp the psychology behind donning a pink wig, it's essential to delve into the psychology of the color pink. Pink is the ultimate symbol of femininity, sweetness, and love. It is a softer version of the color red, which is associated with passion, energy, and aggression.
Did you know that pink is not only a beautiful color, but it's also known for its calming effects? Studies have shown that simply being surrounded by the color pink can help lower your heart rate and blood pressure. People tend to feel more relaxed, less aggressive, and more nurturing. Pink is also believed to stimulate creativity, which is why it is often used in art therapy and creative spaces. So why not add a touch of pink to your life and experience the benefits for yourself?
When someone decides to wear a pink wig, it can mean a variety of things. For some, it is an absolute game-changer! It's the perfect way to elevate any outfit and make a bold statement. Who says fashion can't be fun and playful? For others, it's all about expressing their unique self or standing out in a crowd. However, there are deeper psychological reasons why someone may choose to wear a pink wig.
One reason may be to tap into their feminine side. As previously mentioned, pink is often associated with femininity, and wearing a pink wig can be a way to embrace and express that aspect of oneself. It can also be a way to explore one's sexuality, as pink is often associated with romance and intimacy.
Another reason may be to escape from reality. Wearing a pink wig can be a way to temporarily transform oneself into a different persona or character. Feeling anonymous can be so liberating and empowering! It's the perfect opportunity to break out of your comfort zone and explore new horizons.
Wearing a pink wig can also be a way to cope with difficult emotions. Pink is a calming color, and wearing a pink wig can provide a sense of comfort and security. It can also be a way to express emotions that are difficult to verbalize, such as sadness or anxiety.
In addition to the psychological reasons for wearing a pink wig, there is also symbolism behind the accessory. Pink wigs have become a symbol of empowerment and individuality. They are often worn by individuals who want to challenge societal norms and expectations.
Pink wigs have also become a symbol of breast cancer awareness. In October, which is Breast Cancer Awareness Month, many individuals wear pink wigs to show support for those who have been affected by the disease. Pink wigs have become a way to raise awareness and funds for breast cancer research and treatment.
Hot Pink | Money Piece Long Synthetic Lace Front Wig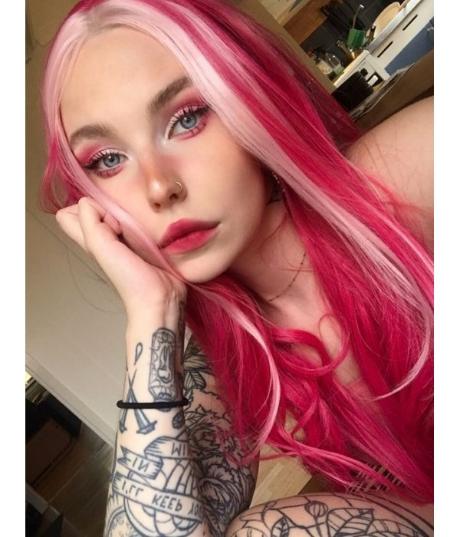 Discover an effortlessly chic look with our hot pink synthetic lace front wig. This vivid, versatile style allows you to go from the office to the club without missing a beat.
Rosewood l Dust Pink Ombre Brown Mid-Length Synthetic Wig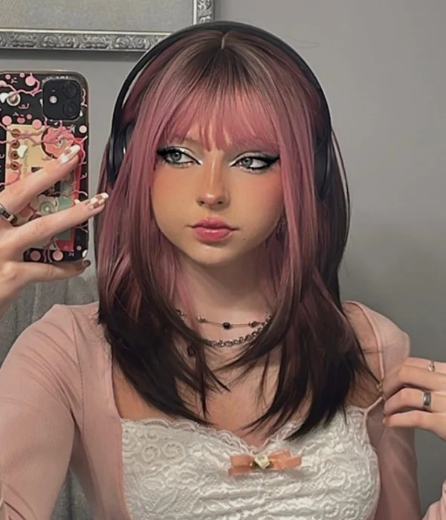 The dust pink ombre brown color is stunning and complements all skin tones, making this wig a must-have addition to your beauty arsenal.
Hot Pink | Money Piece Remy Human Hair Lace Front Wig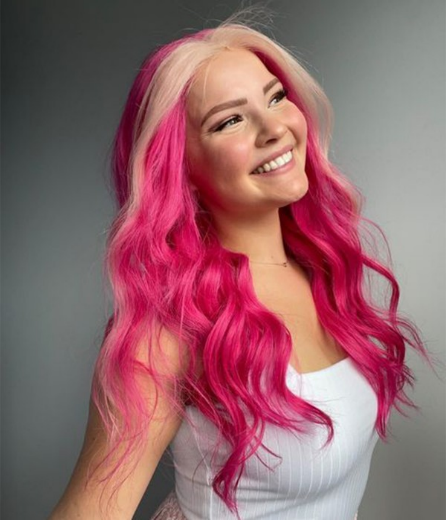 The new Hot Pink lace front human hair wig is a bomb! The vibrant color, soft human hair, and realistic look make it the perfect addition to your life.
Tonya | Pastel Pink Shoulder Length Synthetic Lace Front Wig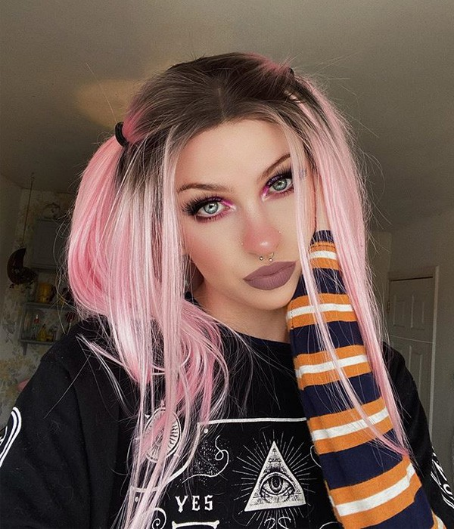 Tonya is a playful pink bob wig. This fun shade will definitely remind you of Power Puff Girl Pink!
Pastel Paradise | Pink Purple Blue Green Ombre Long Wavy Synthetic Lace Front Wig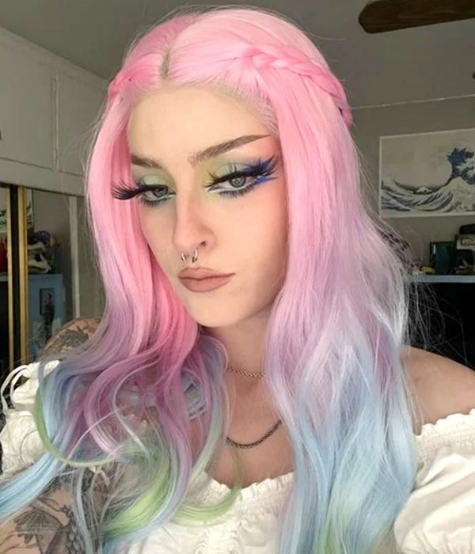 The Pastel Paradise wig transitions from pink to lilac and blue and ends in green for a natural look that is sure to mesmerize everyone.
——
Wearing a pink wig can mean many different things. It is so much more than just an addition to your outfit! It can be a fun and playful way to express your personality, embrace your femininity, or even help you cope with difficult emotions.
Regardless of the reason, wearing a pink wig is a bold and confident statement. It takes courage to step out of one's comfort zone and express oneself in such a unique and vibrant way. Whether you're wearing a hot pink wig to a music festival or a subtle pink wig to a cancer awareness event, know that you are making a powerful statement about yourself and the world around you.