With every passing day, the fashion sense of our society is moving toward its summit. Having black natural hair color is no more criteria of style, modernism, and glamor. If you want to enrich your appearance with an eye-catchy style, you must look for blue cosplay wigs.
Besides style, your Halloween party can be marvelous by wearing these unique wigs. It will allow you to morph into a different character and compliment your attire. Carrying out a new persona with these exclusively designed wigs for special occasions.
Whenever you plan to get into an amazing Halloween character, you should pick blue cosplay wigs. These wigs will make you limelight at the Halloween party and boost your confidence to feel and get indulged in the character. Enjoy these glamorous popping blue cosplay wigs in your conventional, themed, and Halloween parties.
Is it convenient to Wash Blue Cosplay Wigs?
Yes, it is very simple and convenient to wash blue cosplay wigs. To keep your wig long-lasting, you should wash it after every month. The best way to wash these wigs is by hand under tap water using a special wig conditioner.
However, you can use your natural hair conditioner if it's efficient in debris removal. Make sure to clean your wig even before wearing it for the first time. Keeping cosplay wigs clean will make them skin-friendly for your scalp.
How to Use Blue Cosplay Wigs?
To use blue cosplay wigs for a long time requires great care. You should attach it to your head wisely to make a hairline in front showing its similarity to natural ones. Its attachment to the scalp is made very easy due to the lace front on the wig. Avoid styles causing tangles in your hair because such styling will break your wig hair.
Another thing that is very important for the durability of wig hair is to avoid its use while sleeping. If you must use it at night, make sure that the synthetic hair of the wig does not break. Feel free to comb and style your blue cosplay wig hair according to your choice.
5 Best Blue Cosplay Wigs
Let's glance at some of the amazing blue cosplay wigs that you can choose with your Halloween outfit.
1-Starry Sky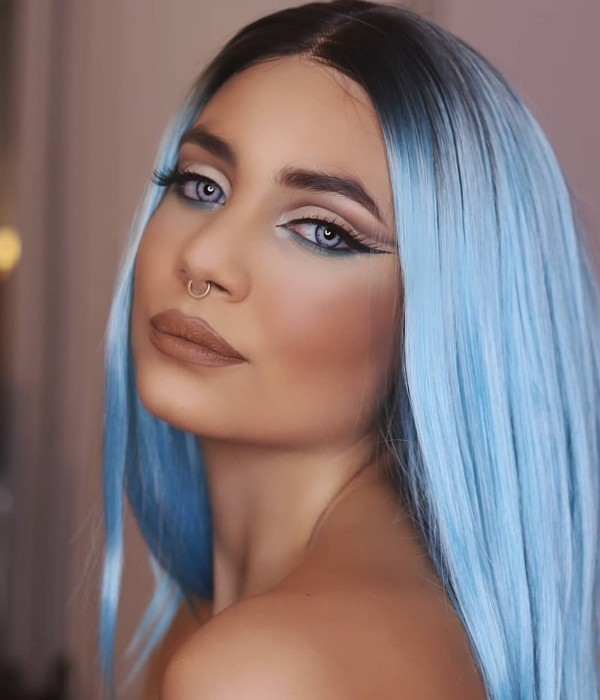 Starry Sky is an alluring synthetic lace front wig of pastel blue color. This shoulder-length bob-cut wig is available in both straight long as well as in loose curls. It comes with a 13×3 lace front wig to make its attachment seamless for a natural look.
Moreover, our starry sky wig has an impeccably tailored cap and adjustable straps to fit it on your head. Feel free to style it with any heating tool as it is designed from heat-friendly fiber. Carrying this black root and pastel blue color Starry Sky Wig will empower your spirit high.
2- Rosalie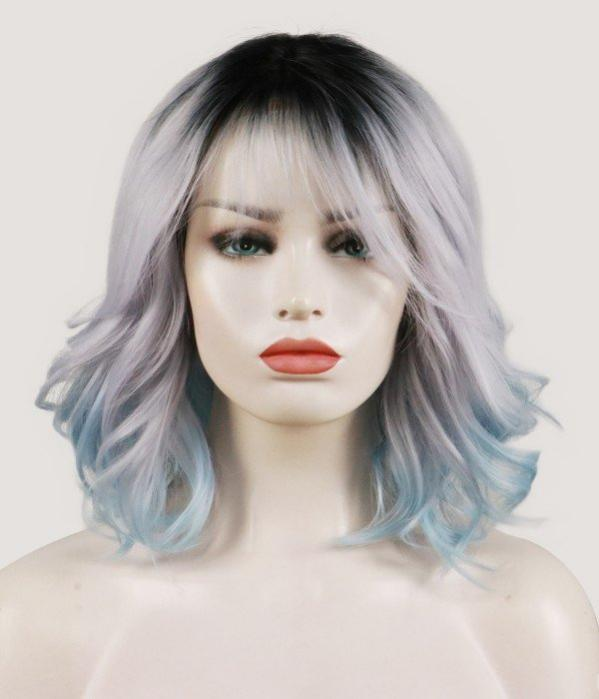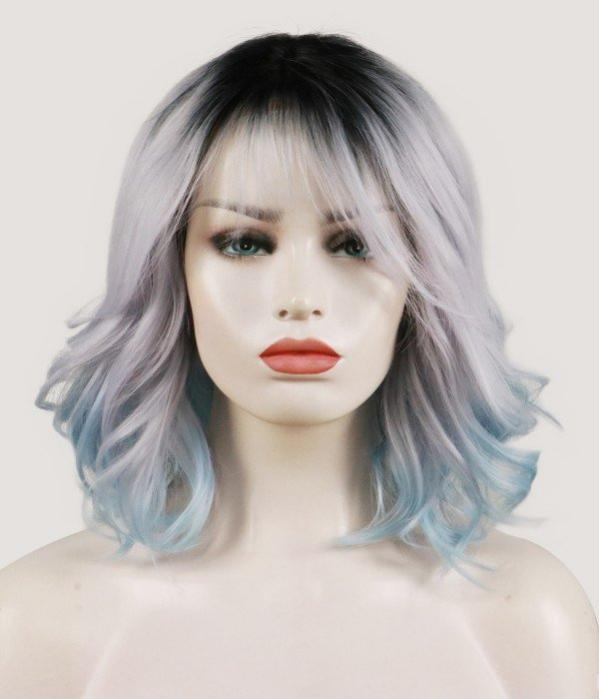 Rosalie is another fascinating wig for cosplay shows and Halloween. This wig is designed in the layered bob style with wispy bangs. If you want to have a blue cosplay wig of shoulder length, this is perfect for you. Rosalie has a cap head and ear-to-ear lace front wig to enjoy a natural look.
The presence of flex combs on both sides of the Rosalie wig makes it more secure. You will surely love this wavy textured hair wig due to its tri-toned appearance. It seems black on roots, gray in the middle, and pastel blue on the ends. Style your heat-friendly Rosalie wig in any way you want.
3- Harley Blue
If your favorite character of Harley Quinzel inspires you in Suicide Squad, you will love this wig. Harley Blue is a hot gradient color wig. Having central parting of skin color hair with half ends pink and other half blue are excellent for a natural hairline look. 
You can get this wig with a skinhead cap and a lace front wig. No matter which wig you choose, you will surely look cool, gorgeous, and alluring in this wave low-ponytail hairstyle. Never use a temperature of above 140°C while styling your heat-friendly wig with heating tools. Enjoy the secure fit of Harley Blue on your head by adjusting sides flex combs.
4- Frosty Ice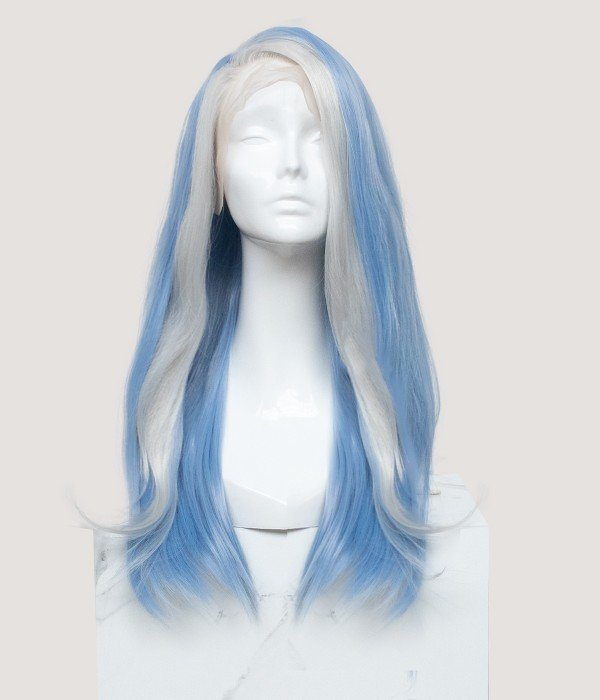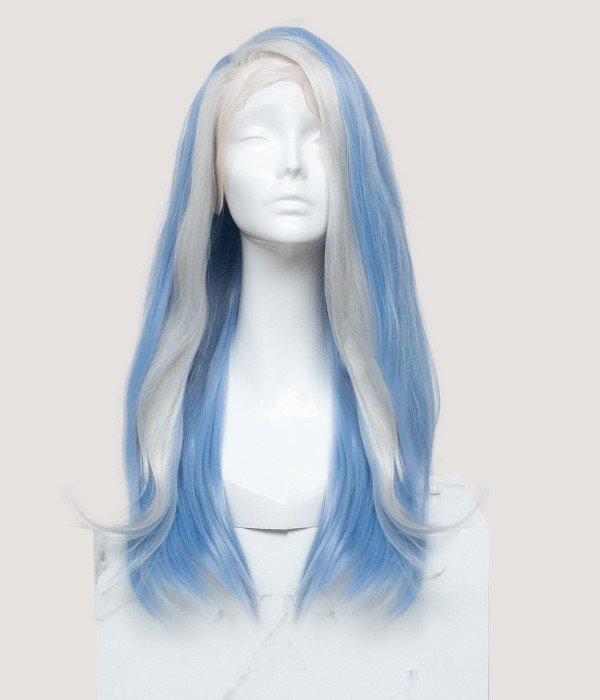 Frosty ice is a soft blue face-framing highlighting synthetic lace front wigs. After wearing this wig, you will feel like an icy queen due to its featured light blue hair along with chunky silver ones. Long hair lovers should never miss such a cool wig having 22 inches long hair.
In a moveable parting wig, you can freely part your hair according to your wish. Its attachment cap has a lace front and a natural hairline to cast an impression like your natural hair. Besides long length, this wig is kept light with 150% density. Get a finished look for your cosplay by wearing this Frosty Ice blue cosplay wig.
5- Amphitrite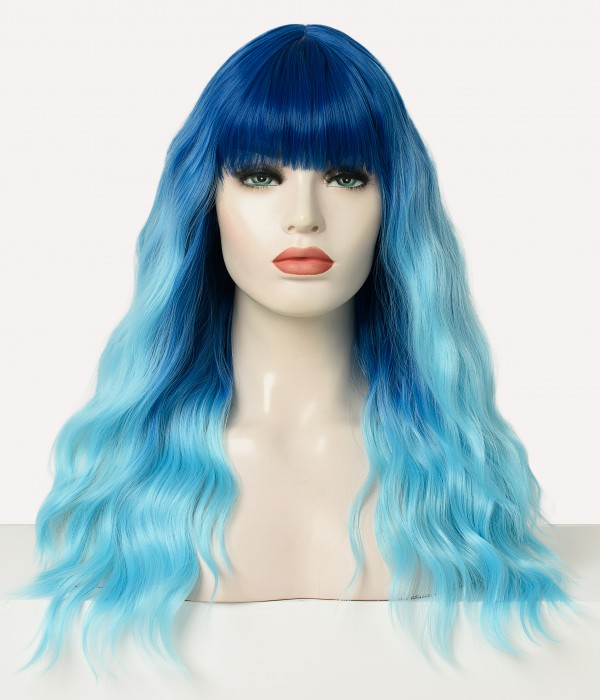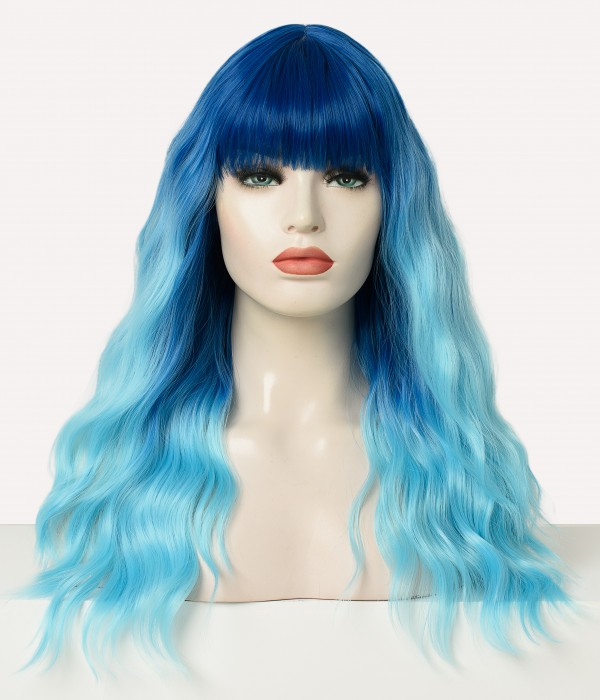 Amphitrite gives you a dreamy look with a blue ombre wavy synthetic wig. This dazzling ocean appearance will charm your personality for cosplay. Whether you are going to Island or marine for cosplay, deep cobalt blue wavy hair fading into softer blue turquoise is an appealing style.
You can opt for a realistic scalp and seamless appearance with the skin cap having a parting line. This wig cut is such that its bold bangs hide its frontlines, making it a natural style for you. You can even straighten this wavy blue cosplay wig as it's a heat-resistant fiber. Make yourself modern by wearing this amphitrite ombre wavy synthetic wig.
Conclusion
All blue cosplay wigs are cool, stylish, and glamorous. These wigs come in different fun colors with a unique style. You can use heating tools to make a new style on these high-quality heat-resistant wigs. Avoid its use while sleeping and keep your wig clean. Wear it only on occasions to boost your personality charm as well as wig durability. Get your desired style from UniWigs now!