Anything is possible with sunshine and a little pink!
Pink hair is one of the most notable fashion trends that begins in 2019 and will stay for a long time. Needless to say, people love dyeing their hair pink after famous celebrities rocked pink hair beautifully.
Dyeing hair permanently is not everyone's cup of tea. If you cannot withstand the uncertainty that comes with a decision as big as dyeing your hair in a bright color but want to jump on the bandwagon, you better opt for a hair wig.
To help you achieve a flawless pink hair look, here are some creative clothing, makeup, and jewelry ideas given by celebrity stylists and makeup artists.
Can I Pull Off Pink Hair?
Before trying out any other hair color than brown or blonde, the thought of looking extra keeps striking your mind. However, trying a new hair color is so addictive that there is no going back once you are into it.
When it comes to timeless fashion, Pink is the color that never goes out of vogue. One can never be over or under-dressed while wearing Pink. Pair it up with black, and boom!!! The party is all yours.
Then why hesitate in wearing a half pink half black hair wig?
It takes guts to come out of your comfort zone and rock an unusual style but come on, the difference between ordinary and extraordinary is to go a little extra.
If you want to be the center of attention in your next fancy dress party, a night out with friends, or a romantic date, you have to try the most trendy and elegant half-pink half black hair wig from Uniwigs.
Half Pink Half Black Hair Wig
For a natural and sleek look, try out this alluring half pink half black shoulder-length synthetic lace front hair wig.
This stunning hair wig named Tonya features beautiful pastel pink-colored strands with added black rooting for a more natural effect.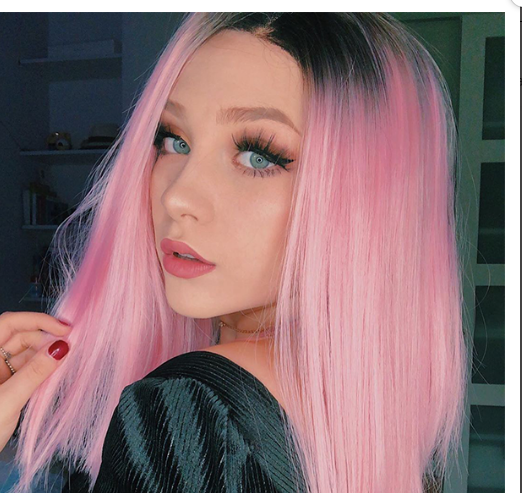 It's a playful pink color taking inspiration from the iconic pink power puff girl. Got a great idea for the next Cosplay party? Cool.
From palest blondes to darkest brown, the pastel pink shade suits every complexion, regardless. You may try this awe-inspiring pink hair wig without giving it a second thought.
Hairstyle Ideas for Pink Hair
Styling pink hair is as easy as styling any other colored hair.
Whether you like a sleek ponytail, a messy bun, waterfall braid, or side-swept voluminous hair, you can easily create any look you want. Pink hair makes no difference in how you are styling your hair; instead, it gives it an added charm.
The pastel pink shade of the half pink half black Tonya hair wig looks glamorous in every hairstyle.
Best Clothing Ideas to Pair Up with Pink Hair
Avoid wearing very bright colors with pink hair, as it might overshadow the beauty of your wig. Try to wear a subtle color that enhances your pink hair wig more to make your hair catch all the attention.
Wearing white and black is highly recommended with pink hair. These two colors give a beautiful palette when paired up with Pink, making you look ravishingly attractive. However, make sure you mix and match your top and bottoms for a more effortless look.
With a white shirt, try to match a black bottom or any other darker color like grey or brown in case you do not have black trousers. Denim pants will do too.
You can wear pink bottoms as well with a white shirt but make sure the bottoms are not darker than your hair color; otherwise, it will look bad.
Floral tees with the black upper or black leather jacket also go well with the cute image of pink hair.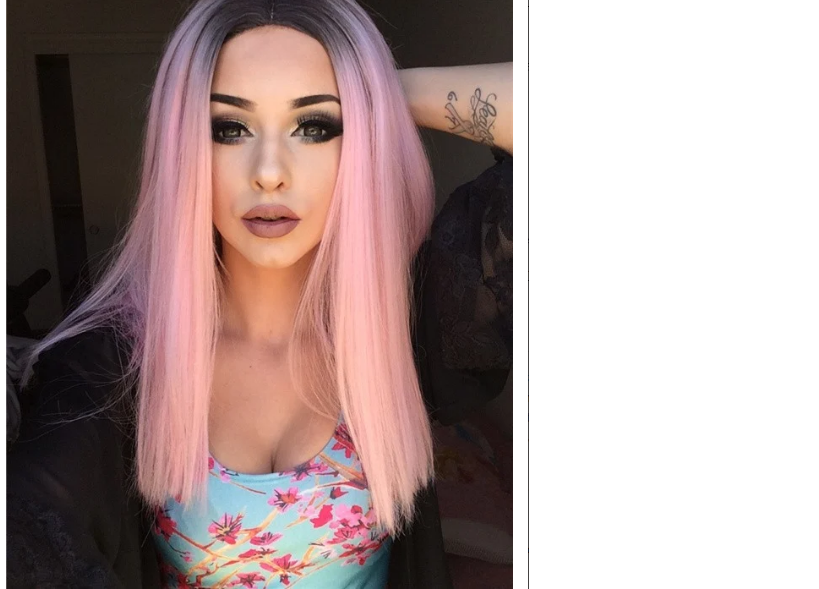 Try silver, gold, and other complementary colors like electric blue, navy blue, burgundy, and other colors from the reddish maroon family for a fancy look.
Makeup Ideas to endorse Pink Hair better
Colored hair definitely affects your relationship with pigments and palettes. Your go-to shade might not look great with new hair color; hence you need to be more open to new makeup ideas.
Feeling exhausted? Not if you look at it as an opportunity to play around with different makeup types and shop for a unique makeup routine. Challenge yourself to master the art of dressing up with your adorable half pink half black wig and be ready for trial and error before you land on just the right kind of blushes and lip colors.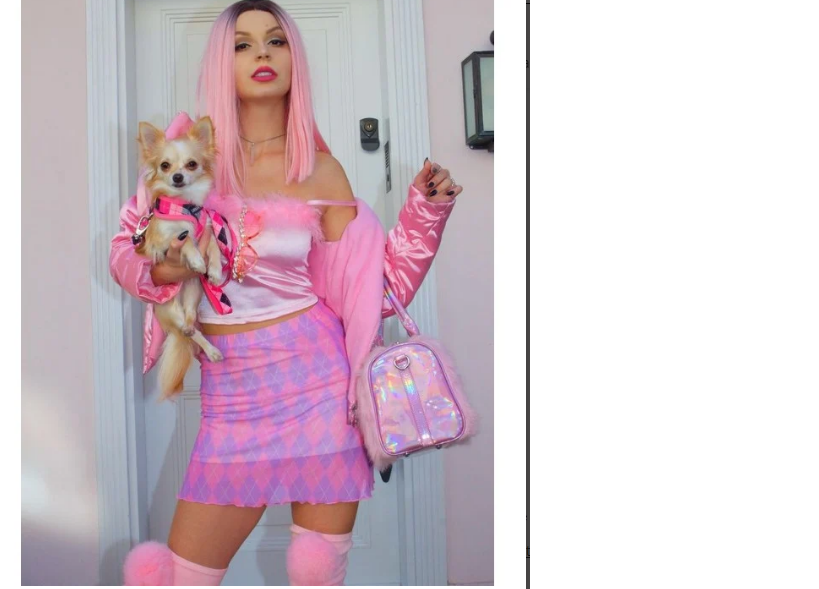 The celebrity stylist Sarah Potempa suggests trying complementary shades like bubblegum pink, soft Pink, bright-bluish red, or hot pink and avoids clashing colors on lips and cheeks for a more put-together look.
For eyes, smoky shades, bold liners, and pink shades work best. Earthy tones on the eyes also pair well with a pink hair wig.
Whichever shade you chose, keep your makeup subtle and do not allow it to clash with your beautiful colored hair. The trick is to use the shadows from the same color family for eyes, lips, and skin.
Let's Wrap Up!
Pink hair is a fashion statement since Hailey Bieber stepped out of her house rocking a signature bob haircut dyed pink. She even made a hearty Red Carpet appearance adorning those beautiful pink strands with an iconic floral headband.
Women since then want to go pink; however, dyeing hair permanently is a solid commitment that requires a lot of courage, patience, and budget. To be honest, you need to transform your hair and makeup with the hair.
Thus, uniwigs.com introduced a half pink half black hair wig and came up with an ultimate solution to help women achieve their desired look without having to dye their hair permanently.
Try this classic hair wig and unleash your inner beauty avatar.