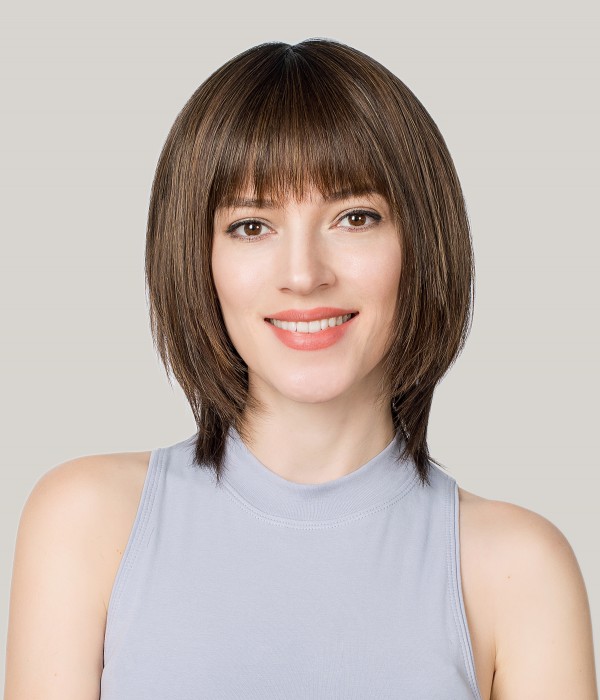 As the seasons' transition into the colder months, you may be looking for some new fashion and hair choices to embody a fresh look. Many of us have had the same hairstyle for months or maybe even years, and maybe we have outgrown this look. Changing up your hair is always a fun change that can take years off you if done correctly. If you've had the same hairstyle for far too long, consider going to the hair salon to change up your look. It's a great feeling!
For mature women, there are many different hairstyles that can look very flattering, timeless, and make you appear more youthful. Many mature celebrities show us which hot hairstyles to look out for. Here at UniWigs, we are always looking for the most up-to-date and fashionable hairstyles to incorporate into our human hair and our LaVivid wig collections! When looking for a new hairstyle, it's always essential to consider the hairstyle based upon how timeless it is and how it can enhance your overall look. We believe that hair is an important part of a woman's identity, as well as how you present yourself to the world.
Here we will go through some brand new hairstyles you can try today, to achieve a timeless hairstyle.
Short Pixie Cut
Jamie Lee Curtis shows us how sophisticated a short Pixie cut can look on an older woman. We've all heard of the Pixie cut, and this style has been popular for years. It is no wonder why the Pixie cut is so popular, as it is a timeless hairstyle that always looks flattering. The Pixie cut draws the attention and the eyes upwards, and thus it has the illusion of lifting the face. For a classic look, go for a gray Pixie like Jamie, or you can go for any hair color. Highlights always look exceptional on a Pixie.
2. Cropped Hair with Choppy Sweeping Bangs
A very flattering hairstyle for older women is cropped hair with choppy side bangs. This is a statement look, and a top favorite hairstyle worn often by Kris Kardashian who looks fantastic in it. This is a classic style because it is short, easy to manage, and has a longer fringe for a more feminine touch.
3. Layered Shoulder Length Bob with Bangs
This shoulder-length style is so chic, and we just love how fun it is. The bangs help to define the face, while the subtle layers at the bottom add some bounce to the hair. This style can look great in any color too.
4. Volumized Pulled Back Bob
The volumized pull-back bob is a classic hairstyle that is great for enhancing thin or fine hair with its volume. Emma Thompson looked great when she rocked this look in recent years. The hair that is pulled away from the face can be complementary to your outfit and make-up look, as the hair does not take center stage.
5. Blunt Bob Cut
If you're looking for something slightly longer and within the bob vicinity, why not try this blunt bob cut? This style stands out because of its blunt modern cut, where it is slightly shorter at the back. This style can look great on textured or straight hair and it will also look great with salon highlights or balayage.
6. Volumized Back with Long Side Bangs
This hairstyle is classic and flattering on women of any age. The shorter layers at the back of the head create volumized hair, and the longer side-swept fringe frames the face perfectly. We love this timeless look.
7. Sculpted Bob Cut
This sculpted bob cut as worn by actress Helen Mirren looks wonderful on older ladies. This bob cut has been gently cut around the back and sides to create a silhouette hairstyle, with long face-framing pieces. We love it!
8. Choppy Pixie
This no-fuss choppy Pixie is the perfect effortless hairstyle. It is super easy to manage, and ideal for busy women on the go or women who don't want to spend a long time styling their hair. We love this short Pixie!
9. Middle Parting Shoulder Length Bob
We love this shoulder-length bob hairstyle, and it can be worn on anyone. This style has a modern twist with the middle parting and soft waves. This hairstyle is a classic look that can take you through the seasons.
10. Long Sculpted Pixie
This long sculpted Pixie hairstyle is very flattering. The hair is not too short, so if you are hesitant to cut your hair too short, then this style could be for you. We love the volumized layers on top and the wispy bangs in front. I bet you couldn't tell that this is actually a UniWigs LaVivid synthetic wig named Talya! This wig looks super realistic, right?
11.Volumized Long Pixie
We all want more volume on our hair, and this volumized and feminine pixie cut worn by star Jane Fonda is a perfect example of this hairstyle. The back of the hair has been teased to create volume, meanwhile, the front fringe has been carefully cut to frame the eyes.
12. Long Feathered Bob
Sharon Osbourne recently traded her bright red hair for this subtle and modern gray sculpted bob, and we are here for it. This style has feathered layers down the sides, alongside bang, and cropped edges.
13. Feathered Shoulder Length Cut
This shoulder-length hairstyle has had the front section neatly feathered into the rest of the hair to create a flawless look. This style has a side parting and highlights throughout.
14. Short Bob with Long Side Pieces
Yes, this is another UniWigs LaVivid synthetic wig, but look at how timeless this style is (although we are a bit biased!), we love the short back and edges with long and delicate side pieces to frame the face perfectly.
15. Cropped Hair with Bangs
This cropped hairstyle with light bangs is complimentary to all ages. Bangs are known to add a youthful appearance to the wearer, and these light straight bangs are perfect on this hairstyle!
So, there you have it, our top 15 hairstyles for older women who want a timeless look. We selected the most timeless styles we could find, and we hope you gained some inspiration for your next trip to the hair salon! Feel free to comment on your favorite hairstyle below!