Wigs, toupees, and hair extensions- the alternative hair replacement industry works its magic daily by introducing several new hair accessories. Traditionally, wigs were heavy hairpieces covering the entire head, making the wearer uncomfortable due to extra weight.
New wigs and toupees are as light as feathers. Traditional wigs were detectable, while modern hairpieces were tailored to perfection, mimicking natural hairline. The adjusting options are also many. If you do not like hair glue or adhesives, glueless synthetic wigs are there to choose from. In short, no matter how picky you are, hairpieces have got you covered.
If we talk about hair strand material, two viable options are available. Human hair wigs and synthetic hair wigs. Human hair wigs look closer to nature and are suitable for those who want medium to light coverage and invisible hairlines.
Synthetic hair wigs, on the other hand, are more durable. Unlike human hair wigs, synthetic hair wigs do not lose their style after washing. Those who are less likely to invest time and energy in caring for a wig shall invest in synthetic hair wigs that are less delicate than human hair wigs.
If the first picture that comes to your mind when you think of a wig is a hairpiece with waist-length hair and lumpy locks on the sides, you are still unfamiliar with wigs and toupees. Wigs and toupees look better than natural hair. The texture and density of these hairpieces have dramatically transformed over the years, making the hairpieces look stylish and most versatile.
Latest Feature in Synthetic Wigs
The latest edition in synthetic wigs is of "Realtress" hair fiber. Regular synthetic fiber has a specific shine that was bothersome for many, and people used to prefer human hair wigs over synthetic versions to avoid unnatural hair shine. This new revolutionary hair fiber is nowhere to save the day.
With the goodness of real human hair appearance, the Realtress fiber allows you to style the wig with the help of heating tools. Thus durability and natural appearance, synthetic hair wigs cut both ways.
Let us give you an idea of how great new Realtress fiber synthetic wigs look. Here are a few most astonishing wigs of the season. Go through them and be ready to get stunned.
Holly Lace Part Heat-Friendly Synthetic Wig | Left Part |Lace Front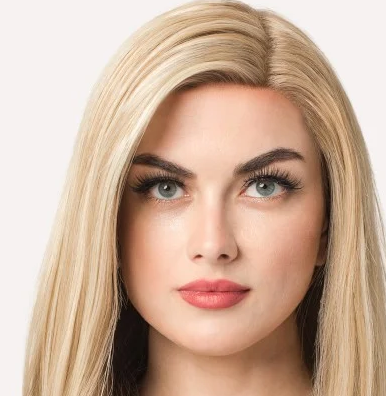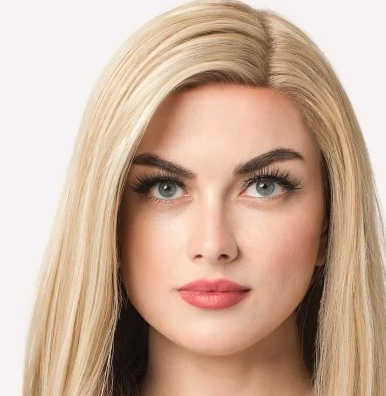 Holly is the newest edition in the collection of hottest selling wigs with lace part cap construction and a fixed left parting. This hairpiece looks exceptional with its high-quality hair strand texture, striking multiple shades, and a pre-styled modern cut. The wig is perfect for contemporary fashionistas who like to wear something that makes them look effortlessly chic and beautiful.
Ellie | Lace Top Full Hand-tied Synthetic Wig Heat Friendly | Low Density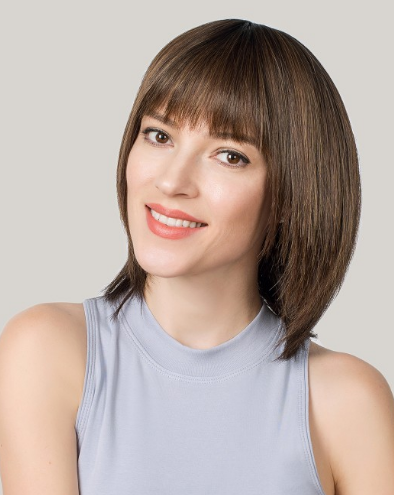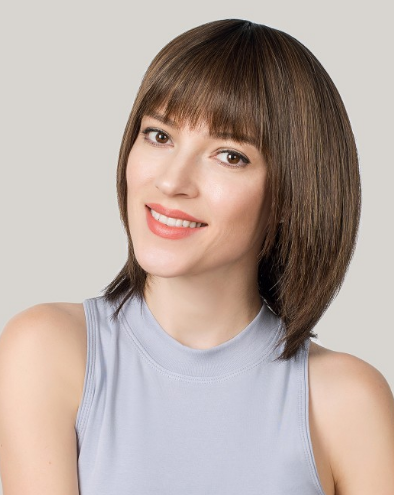 With stylish front fringes and face-framing curtain layers, the wig looks like an exquisite piece that instantly adds elegance and grace. Modern silhouette cut and monofilament cap construction set the piece apart. This particular wig is hand-tied to create a natural-looking appearance. The monofilament cap feels extra light against the scalp, allowing the scalp to absorb oxygen without any restriction.
Lea Lace Part Heat- Friendly Synthetic Wig | Left Part | Lace Front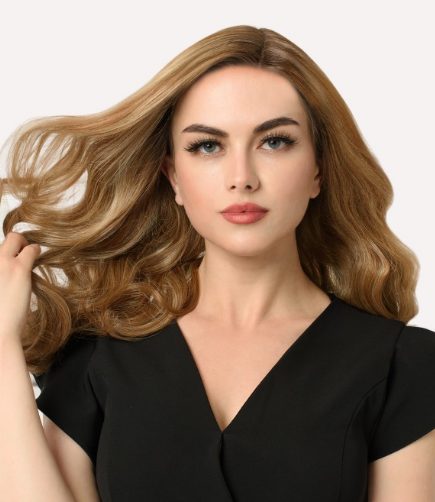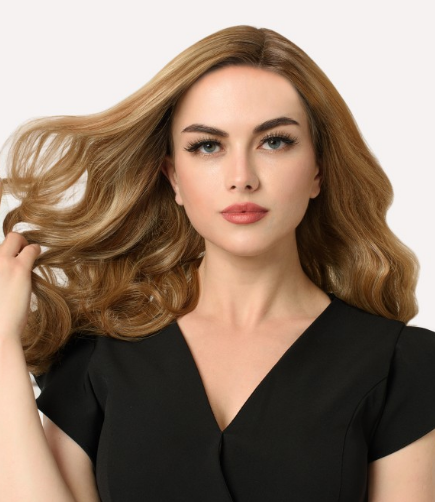 Blonde hair, loose curls, bold lips, and the right attitude- isn't it a perfect definition of a boss lady? Lea Lace is for all the boss ladies out there who want to rule the world with their statement style and killer fashion sense. The wig features shoulder-length loose waves with a fixed left parting to save your time. Temple-to-temple front lace cap construction allows the wearer to create multiple hairstyles without looking fake.
Alice | Lace Front Synthetic Wig | Long Bob Style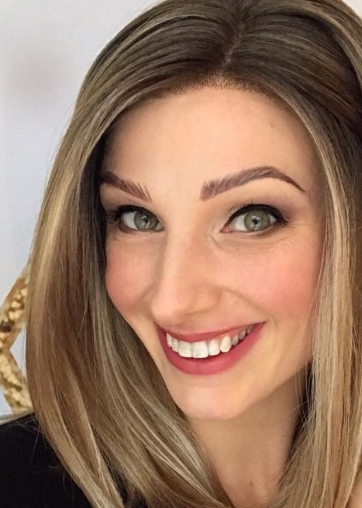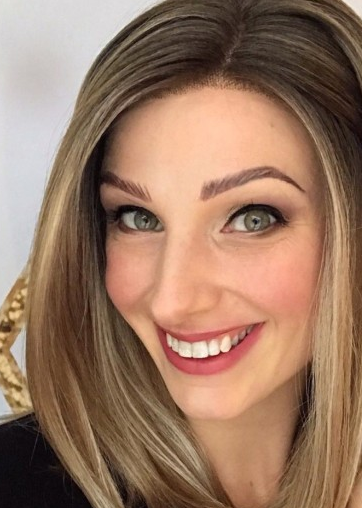 I don't really like angled bobs, said no one ever. As much as angled bobs classify commendable fashion taste, creating one and managing it perfectly requires tons of skills and effort. This is why Alice is the most-sought after wigs. It provides an angled bob within minutes, whenever you want. The wig further features two-toned gorgeous hair strands, stained darker at roots and transitioning into lighter streaks towards the end. Perfect hair density allows the wearer to show off freestyle hair movement.
Patsy | Synthetic Wig | Traditional Cap | Short Pixie Cut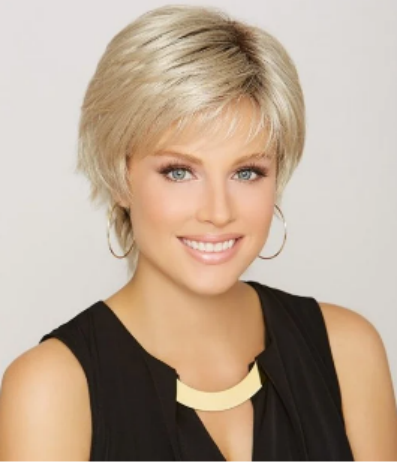 Pixie cuts are a lifesaver for women having thin hair naturally. Apart from adding volume, a pixie cut is popular for adding grace and making women look a lot younger than their actual age. The patsy offers a beautifully textured pixie cut to help you hide receding hairline and bald patches. "Permatease," a permanent above the crown to add extra volume, is the most notable feature of this wig. To create a natural texture, a small layer of fine kinky hair is added to the base in order to enhance the overall shape and structure of the cut.
Michelle | Lace Top Full Hand-tied Synthetic Wig Heat Friendly | Layered Style | Low Density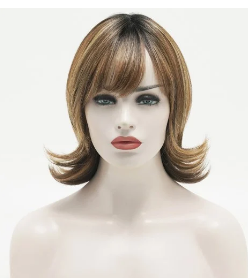 Balayage and bob? Sounds like a perfect combination for the upcoming event. If you want to turn heads and receive endless compliments over your hair color and hairstyle, invest in Michelle. The wig features gorgeous streaked hair in honey brown, caramel, and dark brown shades. Pre-style bob, sweeping layers, and front fringes add an extra dose of glam.
Final Word
Synthetic wigs provide a cost-effective and affordable solution to hide hair loss or hair thinning. These wigs can last more than a year if taken good care of.
UniWigs has introduced new Realtress hair fiber in synthetic wigs. Unlike regular synthetic fiber, this fiber has the most natural human hair-like shine. Those who like synthetic wigs more due to durability and affordability can now enjoy them without having to worry about looking fake. A wide range of stunning hairpieces is available. Head out to the official website now to have your pick before the stock runs out.