Fall season followed by chilly winter winds call for revamping the wardrobe. Put those floral skirts back and make room for darker monochromatic pleated skirts along with gorgeous leather jackets. Do not forget to finish off the look with heavy metal silver or gold chains and ankle boots. Excited already? So are we.
Besides warm hoodies and furry coats, winter allows experimenting with hair styling as well. Those who couldn't wear wigs comfortably in scorching summer heat- come out of your cocoon as it's time to up your hair game.
Fall and winter are all about choosing complimenting hair colors like jet black, red, or striking purple. Let's explore some beautiful hair pieces to make the most of the winter season.
Rogue| Earloop Highlight Long Straight Synthetic Lace Front Wig
Rogue is inspired by the most fabulous X men rogue character. This divergent color wig is perfect for concert dates, bar nights, and club evenings. The wig has an overall mysterious aura which makes the wearer look ultra-posh and unapproachable. Rouge is your road to stealing the limelight in the crowd.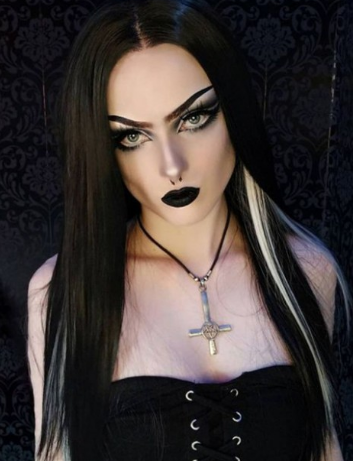 It features long black hair with a hidden blondish white streak beside the ear loop. Whether you choose to keep your hair open and straight or tie them up in a messy bun, the contrast looks beautiful anyway. The hair density ranges from low to medium giving off a natural finish.
Black Pearl | Black Long Layered Synthetic Lace Front Wig
Black pearl-like its name shows, is a gorgeous black wig for ladies who love to recreate gothic looks. The black wig features waist-length long silky, and straight hair. It instantly turns the wearer into a real-life Rapunzel with limitless length and medium to full thickness. The cap beneath is comfortable enough to support the weight of heavy hair locks.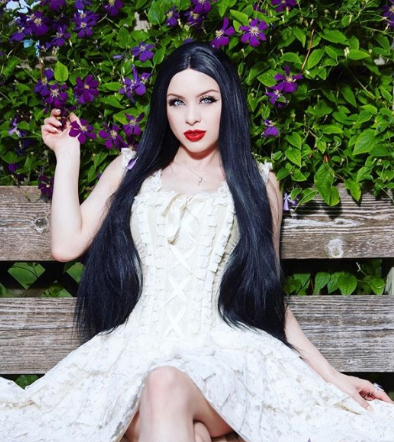 The synthetic fiber is heat-friendly and can be styled with the help of heating tools. However, to increase the durability and lifespan of the wig, spraying heat protectant spray is highly recommended.
Valentine l Crimson Red Long Straight Lace Front Wig
Valentine calls for everything red, so does this unique hairpiece. It features a tremendous crimson red color, perfect to go with winter outfits and makeup. For a natural appearance, the wig has overall lace front construction. Synthetic fiber adds to the durability of this particular wig. It features high-quality hair fiber that resembles natural hair texture and finishes.
The wig is elbow-length. Apart from achieving flawless winter looks, the wig possesses a perfect Cosplay color. Be it any superhero, mermaid, or any other mythical character; Valentine will be at your side to help you rock your parties.
Loco Cocoa | Brunette Balayage Long Wavy Synthetic Lace Front Wig
Trendy winter wigs are always incomplete without a rich chocolate shade. Loco coco has a color that reminds of a cup of hot chocolate during the chilliest nights. It features a new salon-inspired highlight look along with a beautiful brunette shade. It's a pre-style wig with creatively given layers and face-framing bands.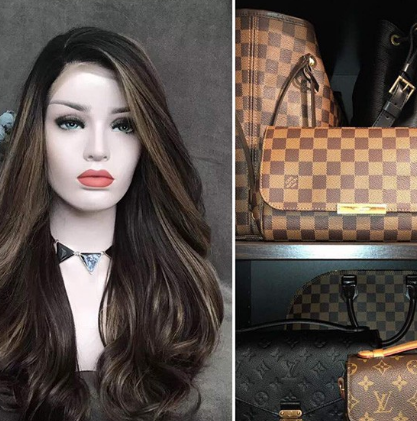 Loco coco can instantly transform your appearance. Wear the wig and see the magic yourself. The texture of the hair is ultra-smooth and bouncy, mimicking a fuller head naturally. Its multifunctional shade will help you transition smoothly from day to night looks and formal to casual events.
Twilight Sparkle |Mystic Purple with Black Dip Dyed and Bangs Long Synthetic Wig
It's a million-dollar addition in machine-sewn hairpieces. Twilight Sparkle has a stunning purple shade with black roots. The cherry on top is the front bang. This wig is ideal for women who love funky and glamorous looks. Add a little drama to your wardrobe by making twilight an essential part of it.
The wig features shoulder-length long synthetic hair, which is dyed purple to add a dash of color. The dye does not fade after washing, neither come off. The wig can further be styled with the help of heating tools. Due to machine-sewn wefted back, it is more affordable.
Sandy Beach | Sandy Blonde Shoulder Length Straight Synthetic Lace Front Wig
Looking for an extraordinary wig that could help you look glamorous yet sophisticated? Add sandy beach to the cart without wasting time. Sandy beach is most suitable for corporate women and boss ladies who love glamour with elegance.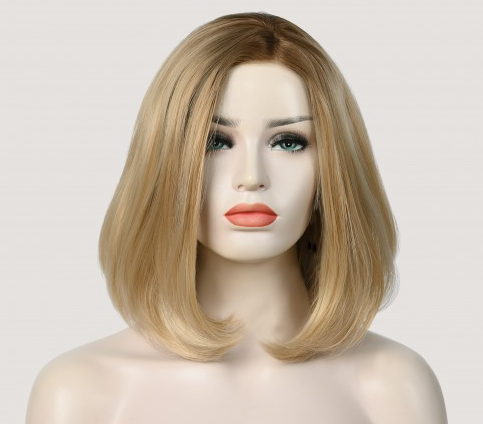 The wig features healthy and bouncy fuller hair in two tones- a beautiful subtle brown complimenting blonde highlights. It's a synthetic wig that is already pre-styled and gives a straight out of salon look. You don't need to blow dry it every time you put it on. Washing does not affect its style, and the wig returns its original look after drying up.
Odette l Blonde With Highlights Long Straight Synthetic Lace Front Wig
With striking blonde color and straight-up 28 inches length, the Odette reminds of a beautiful girl clad in a winter wardrobe with a gorgeous white cap. This wig is perfect for achieving that winter look your favorite influencer shows off on Instagram. Whether you wear it with a long-neck sweater and jeans or a pleated skirt and leather jacket, the wig wouldn't disappoint. It will complement every look flawlessly.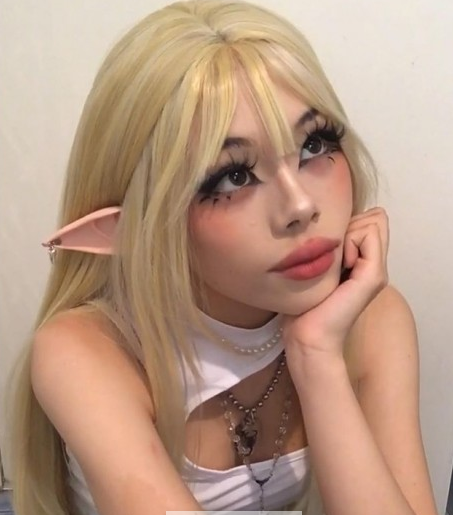 The wig features a lace front to reduce the unrealistic hairline appearance. The hairline is almost undetectable, giving off an illusion of naturally growing baby hair. Hair strands are of premium-quality synthetic fiber with closer to natural texture.
Final Word!
Baggy pair of trousers, warm blazers, coral makeup, and your Louis Vuitton small bag- sounds like a perfect coffee date. Top it off with a stunning wig to look like an ultimate fashionista.
UniWigs have introduced a range of trendy wigs collections to help women achieve their dream looks without having to dye or chop their hair. Use our wigs and change the style every other week. Click HERE to get trendy wigs at affordable rates.