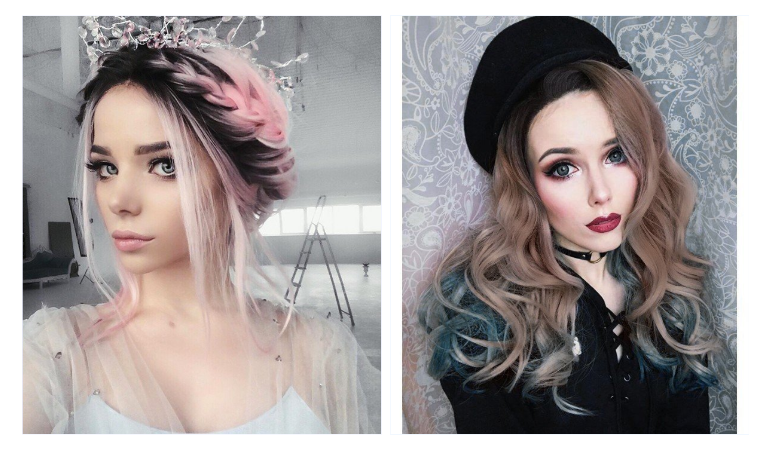 Wigs are a great way to transform your look. They are a good choice for those who want to experiment with a new hairstyle without the commitment. When choosing a wig, it is often difficult to know where to start. With an array of styles, colors, brands, and wig types, picking out a wig for the first time can seem overwhelming. As such having an understanding of the differences between the types of wigs is a good starting point for selecting the best wig for yourself. Wigs are available in two types and they are human hair wigs and synthetic hair wigs.
Human hair wigs are created using human hair so they feel and look just like natural hair. Synthetic wigs are created from man-made material using technology to give them the appearance and feel of real hair. Synthetic hair wig has come a long way in the past few years. Many people have the misconception that human hair wigs are better than synthetic wigs because of the hair type. However, this is not the case. If synthetic hair is made of high-quality fiber, it is difficult to spot the difference. As such, it does not necessarily mean the most expensive option is always what is best for you.
Below are some of the benefits of synthetic wigs:
Synthetic wigs are easy to take care of because they do not go out of shape easily. The wig can be washed, dry and then just give it a little shake.
There is no need to spend so much of your time styling your synthetic wigs because they can retain their style. It will return to its original style just like that. Synthetic wig remains composed and does not frizz regardless of the weather. Also, most synthetic wigs can be worn right out of the box with minimal or no styling requirements. This makes it a more attractive choice for women. 
Synthetic wigs are also very cost-effective. You can actually purchase three or more wigs for the price of one human hair wig. For those who plan to wear the wig temporarily due to hair loss and waiting for hair to grow back, a synthetic wig is a cheaper and better option. The same goes for those who want to wear a wig for cosmetic reasons such as changing hairstyles often.
You can actually have a beautiful natural-looking hairstyle with a synthetic wig. When you purchase a good synthetic wig, you can have the same look like a human hair wig for a lot less.
Synthetic wigs are also very versatile and can give you the freedom to style your hair the way you want. If you wish to change the hairstyle pattern, just wash the wig in lukewarm water and try a different styling option.
Synthetic wigs have an amazing vibrant shade because synthetic hair fibers hold color more efficiently compared to human hair fibers.
When it comes to variety, color, shades, and texture selection, synthetic hair wigs take the lead. There is an array of natural colors to choose from and you can get an abundance of options for a unique look.
Many women love synthetic wigs because they offer a quick way to switch up their look and they are also more affordable. Thanks to wig technology which has advanced tremendously, synthetic wigs are more comparable with those made from human hair.
The best place to buy wigs is from Uniwigs, an internationally renowned wig supplier that specializes in an extensive range of high-quality hair products. If you have always had black or brown hair color and would like to give your hairstyle a new color, you may want to get some colorful lace front wigs. Dyeing your hair frequently is harmful and the chemicals may increase the risk of damaged hair. So getting yourself a colorful wig is the best bet. Here are some of the popular colorful lace front synthetic wigs from Uniwigs:
Smokey Brown Grey Blue Ombre Wavy Lace Front Wig
This wig is a beautiful combination of earth and watercolor. The top portion of the hair is brown while the lower half is in an ice blue-gray shade.
Pastel Pink Lace Front Wig
Pink wigs are synonym with Anime or Cosplay. The color pink exudes a cute and innocent look. Many celebrities have been photographed in pink wigs such as Katy Perry or Iggy Azalea. If you prefer something more subtle, then this pastel pink synthetic lace front wig is a good choice. 
Purple Synthetic Lace Front Wig
Purple wig whether it is in lilac, lavender, or dark purple, is an interesting color that can give your skin a brighter appearance. Many fashion girls and celebrities have been debuting their purple hair and this color trend is the rage right now.
Time to embrace your individuality with Uniwigs' range of colorful lace front.