Often the absolute beauty lies in no color so let's paint the world white! White is indeed the most charming color. The fashion and Cosplay world also regards white as one of the most important colors due to its sophistication and ability to make versatile combinations. Many Cosplay looks call for white, silver, or blonde hair to recreate dynamic fictional characters. Emilia Clarke, in Game of Thrones, Ian McKellen in The Lord of the Rings, or Idina Menzel in Frozen, many characters have endorsed white heads beautifully. If you do not want to go permanently white or blonde, UniWigs has brought a wonderful solution- white Cosplay wigs. Let's explore an array of classical white wigs to finish off your desired look with utmost perfection.
Our Favorite Classic White Wigs Collection!
Fatin Synthetic Lace Front Wig
Featuring darker roots and starry silver-white color, Fatin is a gorgeous white lace front wig with synthetic hair. The wig is pre-styled, having a beautiful and voluminous razor-cut bob. The hair texture is silky and Flowy, allowing the wearer to have a close-to-natural hair experience. It is perfect for modern-day women who love everything bob and bold. Darker roots further signify the beauty of white hair and form a natural hairline.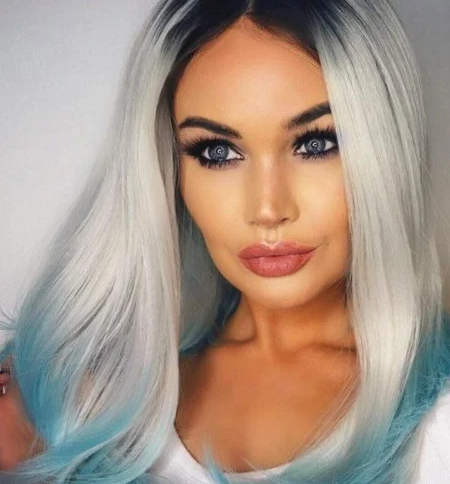 Clara |Sunkissed Blonde Balayage Synthetic Lace Front Wig
If you want a Cosplay wig that you can quickly wear otherwise, pick Clara. This beautiful wig features salon-inspired balayage hair color with darker roots transitioning into gorgeous face-framing highlights. It gives the wearer a polished and ethereal look for formal to casual events.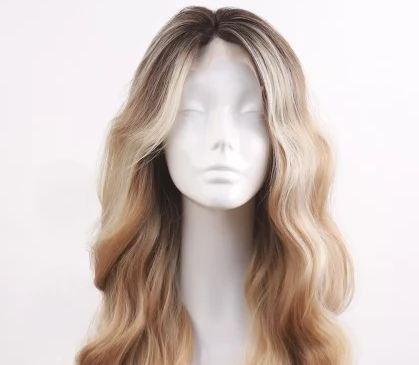 The wig is made with premium quality synthetic hair with a natural texture and satin finish. Clara is a luxurious hairpiece with a temple-to-temple lace base. Full front lace base allows the user to create moveable partings for several hairstyles.
Misty Dawn l Pale Lilac Long Natural Wave Synthetic Lace Front Wig
Long, lustrous, lilac- these three words perfectly describe the beauty and elegance of misty dawn. It is a stunning hairpiece in a striking lilac shade that never fails to turn heads. The wig length is ideal for women who always want Rapunzel hair and long braids. It features approximately 26 inches long hair with medium to full density.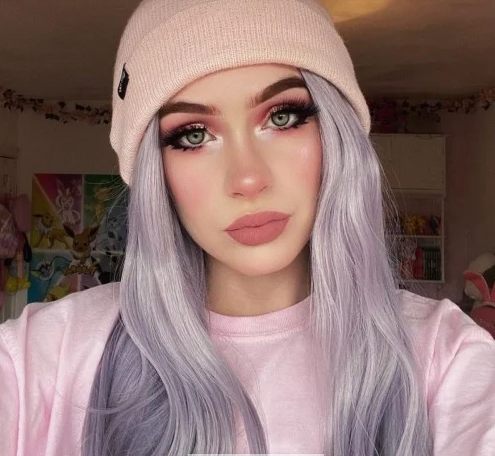 Front lace construction creates a natural hairline, and synthetic hair is heat friendly, so you can easily style the wig further. Just pair it up with any plain to blingy outfit and look your absolute best in the upcoming event.
Smokey l Gray With Creamy Yellow Highlights Straight Long Lace Front Wig
With cream-yellow highlights and a grey undertone, Smokey gives off angelic vibes. Featuring long and straight synthetic hair with 120% hair density, smokey is perfect for recreating numerous Cosplay looks. It is a versatile wig that can be worn for day-to-night glam. Be it your hectic Monday morning or weekend party; Smokey will add just the right amount of glam.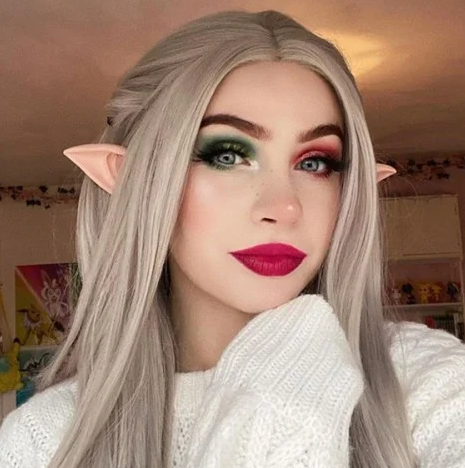 Synthetic heat-friendly fibre resists the damage created by heating tools. If you want to add texture or curls, you may curl your wig with a curling iron without hesitation.
Odette l Blonde With Highlights Long Straight Synthetic Lace Front Wig
Longing for a wig that nobody would be able to trace? Wear Odette. It's the most sought-after hairpiece due to its natural-looking hair color and texture. The long straight hair features an ethereal elegance, exemplifying the beauty of balayage. Lace front base construction gives a natural and moveable hairline to create multiple hairstyles effortlessly. The color of this wig features a different blonde to balayage shade with a tangy undertone for a fun look.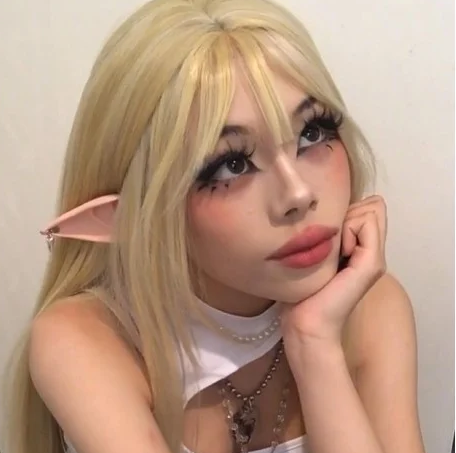 Blondie | Platinum/ Icy Blonde Long Synthetic Lace Front Wig
As the name shows, Blondie is a perfect blonde shade for those who love to rock blonde heads any day, every day. The wig features long, straight synthetic hair with a lace front providing utter perfection. It has an adjustable strap inside for a secure fit so even beginners can wear it like a pro.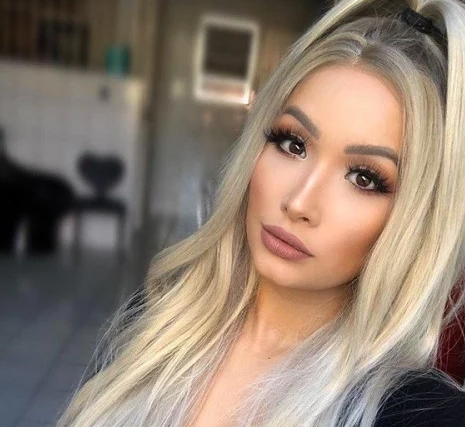 Cassia | Platinum White Bob Synthetic Lace Front Wig
Want to look like a boss babe? Wear white hair with bold red lips. Cassia features an awe-inspiring white shade with bob-cut synthetic hair. It has a hand-sewn lace front for free parting and an invisible hairline for a closer to natural wig-wearing experience. With cassia, no one would be able to detect your wig.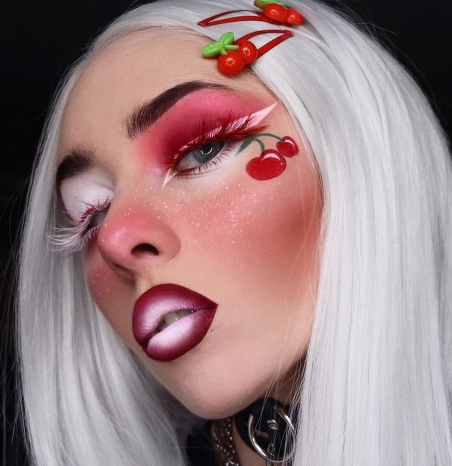 The Snow Queen l Ivory White Blonde Long Loose Wave Lace Front Wig
Ever seen beautiful snowflakes? The Snow Queen is a one in million white Cosplay wig featuring sparkly white shade. It sure reminds us of the beautiful coldness of the ice and the sparkle of the flakes. It has long, straight ivory-white hair with a loose wavy texture for a perfect glam look.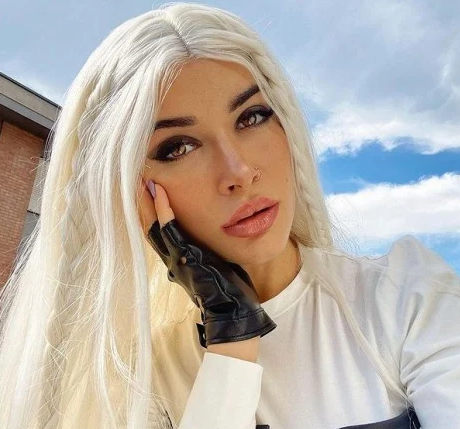 Star | Cool Silver Long Wavy Synthetic Lace Front Wig
Start is the most versatile hairpiece that can be worn everywhere. From Cosplay to the real world, stars will be at your service to help you transform your look instantly. It features long silvery-white hair with a loose wavy texture. The density is perfect for women who love to rock a fuller head.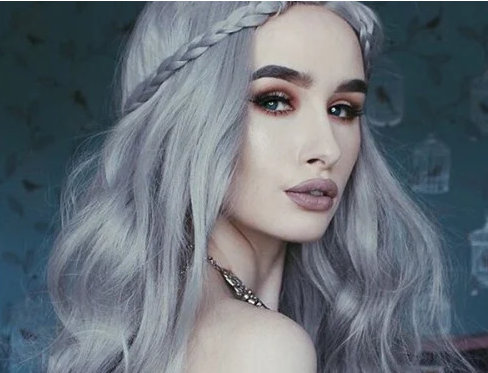 Cloud | Pastel Blue Long Silk Straight Synthetic Lace Front Wig
This pastel blue wig feels like wearing a cloud on your head. It's breezy, refreshing, and ultra-light for those who want a wig that is absolute perfection. Synthetic hair and lace front further add in durability and grace.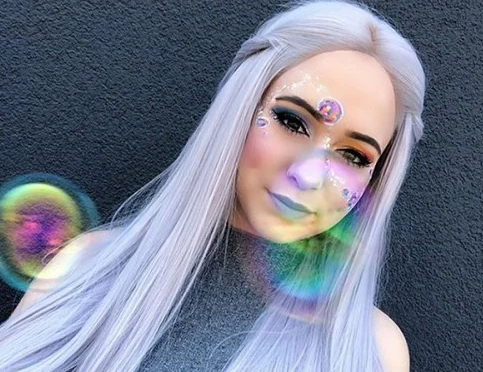 Final Words
White Cosplay wigs have always been in fashion. Whitehead allows the other colors to show up their vibrancy to the fullest. Whether you pair it with pink tones, brown palette, or black to smokey makeup, white compliments almost every shade. Several movie characters have rocked whiteheads on screen, leaving the audience in awe and wanting to recreate their dynamic look.
UniWigs have crafted beautiful white Cosplay wigs. A huge collection of trendy wigs is available to make your day. Click HERE for the most stunning white Cosplay wig of the season.