Innovation is what comes to my mind when l think of how pink wigs have evolved within a short period. People have become more adventurous and are not holding back on experimenting with different shades of pink on their wigs. Traditionally, pink was one of the bold colors a good number of people wouldn't choose as a hair color because of its brightness. There are many variations to this color now and the various shades allow people to select the perfect tone that suits them. The intensities now range from hot bright pink to a very subtle shade of pink. Today we are going to talk about some of the potential wigs you can wear from our UNIWIGS', "Short Pink Wigs" collection. There are a total of four short, pink wigs discussed in this article and they all have distinct features that are just mind-blowing. This will be a good way for you to elevate your look at an affordable price and effortlessly. Let's get right into it.
1.Cherry Blossom | Ombre Pink Shoulder Length Beach Wave Synthetic Wig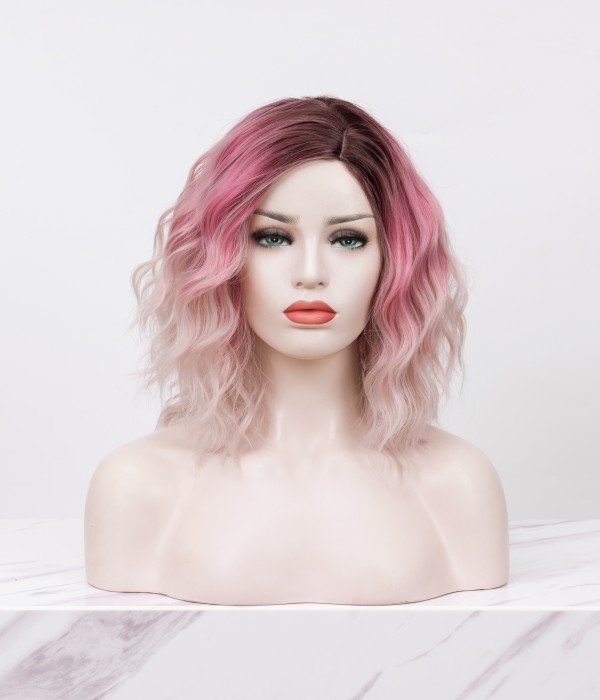 Cherry Blossom happens to be one of the most complicated and astounding wigs l have come across. She has shades that are so fulfilling to look at, they low-key remind me of summer pop sickles with the smooth transition of colors. Cherry Blossom is an Ombre pink shoulder-length wig that comes with a choice to either choose a lace front cap or a skin top cap. Some special features to note are the flex combs that help you secure your wig, goodbye bobby pins. There are also adjustable wig straps that mean there won't be a chance that the wig will come in a size big or small. Though the hair is synthetic, it has a natural hair feel and look to it. It can be styled with heating tools, thus, allowing you to either straighten the hair or try out various kinds of curl sizes with your wig. The wig itself has a lot of personality being portrayed, you can either wear it with solid colors like black for a gothic look, or you can wear some funky shades for a more colorful look.
2.Peach Sorbet | Pink Short Wavy Bob with Bang Synthetic Lace Front Wig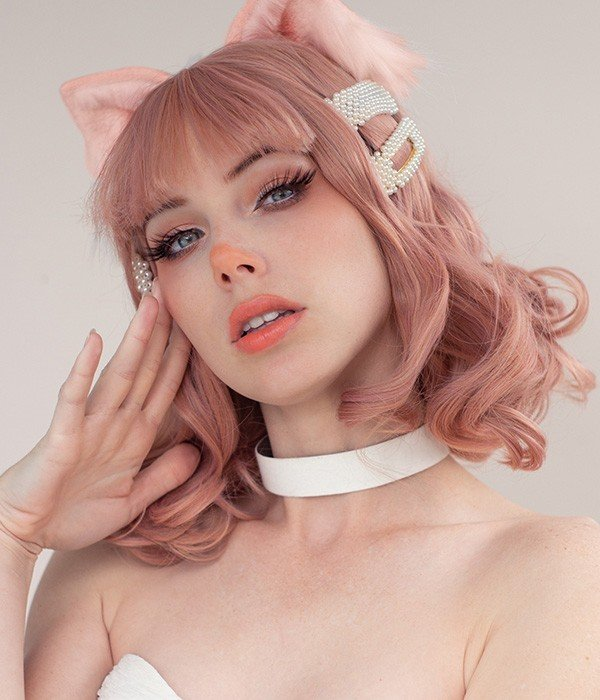 Peach Sorbet is a wig l would consider wearing on a daily basis because it just looks so comfortable and the shade has that warm look to it. Not only that, it's the bangs for me, they are not too long or bulky, so they lay above your eyebrows but at the same time allow people to see your eyebrows under the bangs. Peach Sorbet is a short, pink, and curly wig that has all the features hair lovers are looking for. Let's start with the density, it has a density of about 150%, which means this hair won't give away that it's a wig by its density. It is a pastel pink wig with undertones of light orange and platinum, the combination of all these colors come together to give a classy, refined and gratifying wig to wear. Various accessories can be used along with this wig, you can either go for a headband or hairpins that complement the look that you are going for. The style possibilities to go for with Peach Sorbet are endless, get your own and get creative!
3.Storm Berry / Dusty Rose Pink with White Highlighted and Brown Roots Synthetic Lace Front Wig (Heat Friendly)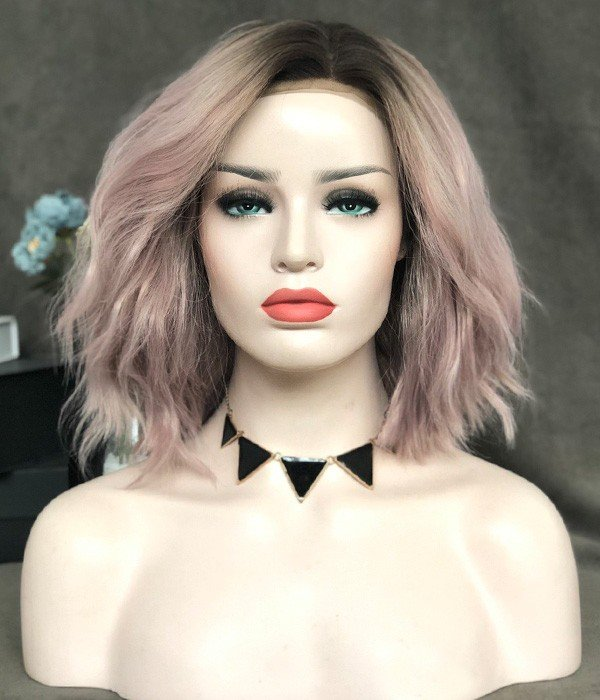 The features of this wig are just the bare surface of the many things that are possible with this wig. Storm Berry reminds me of those soups you drink and with every spoon, you discover a new flavor. Its colors are so complex yet alluring. It is made of dusty rose pink with powder white highlights with undertones of lilac. The roots are natural brown and this enhances the natural look of this wig. The loose curls make the wig suitable for people of all face shapes and ages. This wig will have you turning heads everywhere you go.
4.Tonya | Pastel Pink Shoulder Length Synthetic Lace Front Wig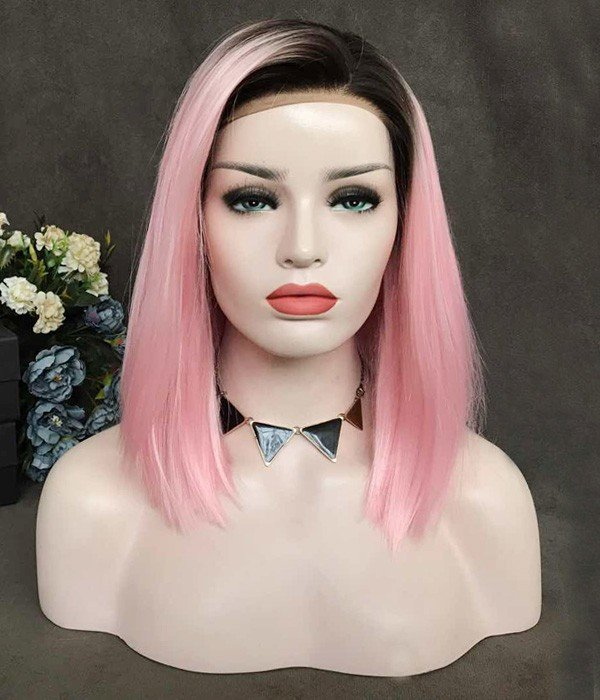 Tonya is a pastel pink shoulder-length synthetic wig. She has dark roots to give a natural look to your appearance and a flawless pink for the rest of the wig length, this color is also known as a power puff girl pink. To add to your natural look, Tonya comes with a 13*3 lace front space and another plus are the flex combs that help you secure your hair, you are guaranteed that your hair will be in one place, so feel free to slay with this wig at a rock concert. The hair is heat friendly, so go ahead and design your wig as you will. Tonya will be perfect for a day out with friends or a themed party. Different braiding patterns can be done with Tonya and hair accessories can also be used to diversify your look from time to time. Check out some of our accessories from the shop and see which ones best fit the look you are going for. One accessory that l would suggest is the Black Leather Bunny face | Rabbit Ear Mask.
Conclusion
Back in the day, there were so many reasons as to why one would choose to not try out a pink wig, but now the options are a bottomless pit. There are so many exciting things to try out that suit all personality types. We have discussed a few, but there are more options than you can examine or check through at UNIWIGS. You can also go through our customer cams section for inspiration on how you can best wear your wig. We pride ourselves in the reality that all our pink short wigs are of great quality so that we can provide the best for our customers. All wigs discussed above are heat friendly, come with natural-looking lace fronts or skin top cap, the hair density is out of this world, there are flex combs for securing the hair, adjustable wig caps, basically, these are state-of-the-art hairpieces, and you should surely take part in experiencing this goodness. Your dream wig is our priority.